All roof battens/ceiling battens shall be Stramit sections or approved equivalent supported by submission of section properties and capacity calculations/data in accordance with AS4600, AS3623 and AS1562.
All sections shall be produced from high-tensile G500/G550 steel with a galvanised/zinc-aluminium alloy coating conforming to AS1397.
All sections must be installed in accordance with the manufacturer's recommendations with particular reference to the number, size, grade and positioning of fasteners.
Limit-state design capacity tables for Stramit Roof Battens for use in non-cyclonic areas are located in the Stramit Top Hat Sections Product Technical Manual.
Contact your local Stramit office for information on use of the products in cyclonic areas.
Information on the use of the Stramit Cyclonic Roof Batten in the Darwin area can be found in the deemed to comply sheets in the Darwin Area Manual. These sheets can also be obtained from your local Stramit office.
Each application must conform to the specific details outlined in the Design Data Sheets.
The following fasteners are recommended for fixing Stramit® Roof and Ceiling Battens: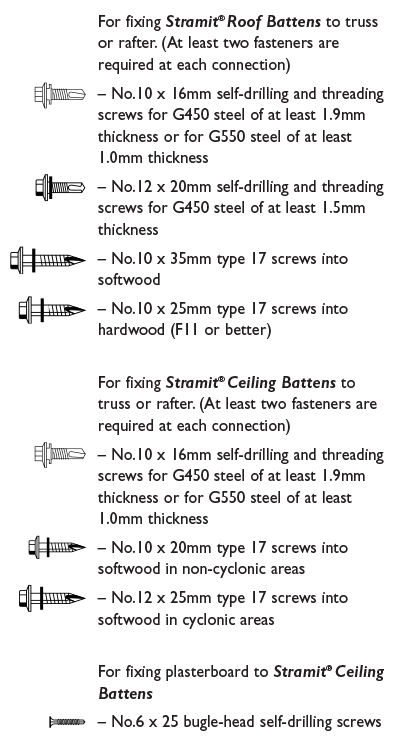 Stramit can also supply cold formed steel sections that can be used for stud, plant and nogging frames. These conventional sections are easily assembled using conventional techniques.
All loadings used in deriving the design data are assumed to either act uniformly along the top central flange of the sections or, for connections to support members, evenly between each of the lower flanges (feet).
Foot traffic loadings, where used, are based on AS1562.
Stramit® Roof and Ceiling Battens are manufactured from high-tensile (G550/G500) steel with either AZ150 zinc-aluminium alloy or Z350 galvanised coating in full conformance with AS1397.
Stramit® Roof Battens may be used with either metal sheeting or with concrete/terracotta tiles. The relevant performance can be obtained from the relevant Technical Manuals.
Stramit® Fascia Battens provide protection to installed Stramit® Fascia during the roof installation.
Stramit® Roof and Ceiling Battens are available in a range of sizes, selected to match the dimensions of adjacent structural members. Additionally all Stramit® Top Hats are available in various thicknesses to allow designers flexibility between performance and economy. Size and mass details are below: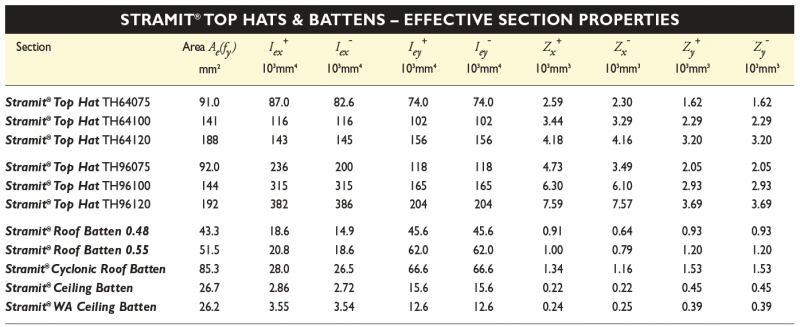 Roof batten spacings are influenced by support (truss) spacing, sheeting capacity or roof tile spacing.
Ceiling batten spacing is selected to suit plasterboard manufacturer's requirements.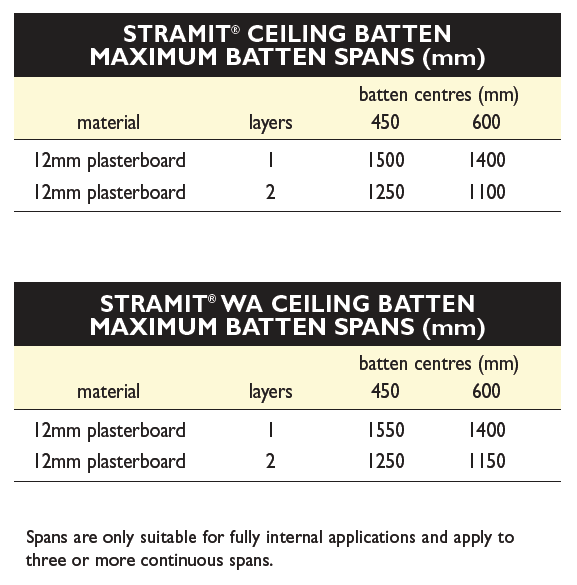 Based on the foot traffic requirements of AS3623, the maximum span for Stramit 0.48 Roof Batten is 900mm and Stramit 0.55 Roof Batten is 1200mm. This assumes a maximum batten spacing of 300mm and a maximum tile weight of 0.67 kPa.