Maintaining the correct specification of purlins, girts and bridging is very important. Even a small change in specification can lead to substantial reduction in performance. A suggested specification is as follows.
All purlins and girts shall be Stramit® C or Z Purlins and Girts used with Stramit® Bridging or approved equivalent, supported by submission of section properties, purlin capacity calculations, and a performance warranty, produced and detailed for this project.
All sections shall be produced from either galvanised steel with a coating mass of at least 350g/m2 or ZAM® coated steel conforming to AS1397 and designed in accordance with AS4600:2005. All sections should be installed in accordance with the manufacturer's instructions with particular regard to bridging and bolt locations and lap sizes.
Where required for structural or installation purposes, Stramit® Bridging shall be installed using pre-made components to manufacturer's instructions. All other purlin accessories shall be supplied by Stramit.
A NATSPEC work section is available for this product. Download
Bolting of Stramit® Purlins or Girts to cleats and at lapped joints should be by standard M12 grade 4.6 bolts unless the shear capacity of the bolt is exceeded as indicated in the design Capacity Tables.
If so, bolts will need to be upgraded to grade 8.8 bolts. For 300 series purlins use M16 or M16 grade 8.8 as indicated in the tables. Always use the correct size and grade of bolts, ensuring all bolts are securely tightened.
Bridging provides resistance to purlin rotation during the installation of roof and wall sheeting. For this reason a maximum bridging (or bridging to cleat) spacing of 20 x purlin depth, but no greater than 4000, is recommended. Failure to do so can lead to misaligned fastenings, causing additional stresses on the fasteners and roof sheeting. Excessive purlin rotation can be a safety hazard during construction.
Stramit therefore recommends that at least one row of bridging be used in each purlin span. Stramit® Bridging is only designed to allow purlins and girts to resist wind loads once the sheeting has been attached. Purlins, girts and bridging should not be subjected to loading from stacked materials, even when sheeting is attached, or from lifting assemblies of framing.
Bridging used with girts may be subjected to compressive (or tensile) loading due to gravity during installation. These loads become cumulative with increasing wall height, unless a separation joint is included.
The capacity of Stramit® Boltless Bridging, Stramit® Bolted Bridging and Stramit® Large Series Bridging to resist these loads is given in the Stramit Purlins, Girts and Bridging Product Technical Manual. These capacities are based on the mass of the girts plus a 1.1kN load to allow for riggers.
The revised Stramit Purlins, Girts and Bridging Product Technical Manual incorporates limit state design capacities based on the latest software specifically developed for purlins and girts at Sydney University. This software is based on the limit state AS/NZ4600:1996 'Cold-formed steel'. Use of Sydney University's vacuum test rig and the latest computer software has enabled Stramit to remain at the forefront of cold formed purlin technology.
The design capacity load tables incorporate different span types, up to 3 rows of bridging, inward or outward loadings and deflection criteria all based on UDL loading.
All Stramit C or Z Purlins and Girts may be available with downturn lips for special projects. Purlins of this shape cannot normally be lapped and are usually used in single or short double span construction.
Stramit can supply lappable Zs, subject to inquiry, providing a unique section that offers strength and economy as well as a downturned lip.
Please contact your local Stramit office for details on availability, minimum order quantity and delivery lead times. Remember to allow additional cleat length for clearance between the downturn lips and the support beam.
Fascia purlins (either specifically designed or Stramit C purlin) are normally subjected to lower loads and are usually restrained by sheeting attached to the top flange and lower lip.
However should the fascia purlin support the wall girts via the fascia bridging system, ensure sufficient allowance is made to carry this extra load.
Stramit® Purlins and Girts are custom punched to project requirements. Standard hole size is 18x22mm. Recommended web hole centres are:
C/Z 100 40mm
C/Z 150 60mm
C/Z 150 70mm (Vic & Tas)
C/Z 200 110mm
C/Z 250 160mm
C/Z 300 210mm
C/Z 350 260mm.
Stramit generally recommends a lap length of 15% of the span. Lapped Span Design Capacity tables (including continuous) are based on a 15% lap. Where span lengths are unequal (eg reduced end spans) each purlin should have 7.5% of each adjacent span added as the lap length on that spans side of the support.
Stramit® Purlins and Girts are manufactured from hi-tensile GALVASPAN® steel, with a Z350 galvanised coating (350g/m2) or ZAM® coated steel conforming to AS1397. Other coatings, grades and materials may be available, subject to inquiry.
The mass and steel grade for each C&Z Purlin section is detailed in the Sizes section.
Please refer to the Stramit Purlin and Girts Technical Manual for the full and effective section properties. Any designs carried out using the printed section properties should be calculated using AS/NZS 4600.
The standard size and thickness range is outlined in the table below.
C-Sections are mono-symmetric and their freestanding, stable shape allows easy handling and storage. They are adaptable to 'I' and 'Box' configurations.
The Z section range is asymmetric. The uneven flanges allow the sections to be lapped to permit structural continuity, a factor that contributes significantly to building economy. The savings achieved by lapping Z sections, with the increase in strength and rigidity, more than compensates for the extra purlin material in the lap itself.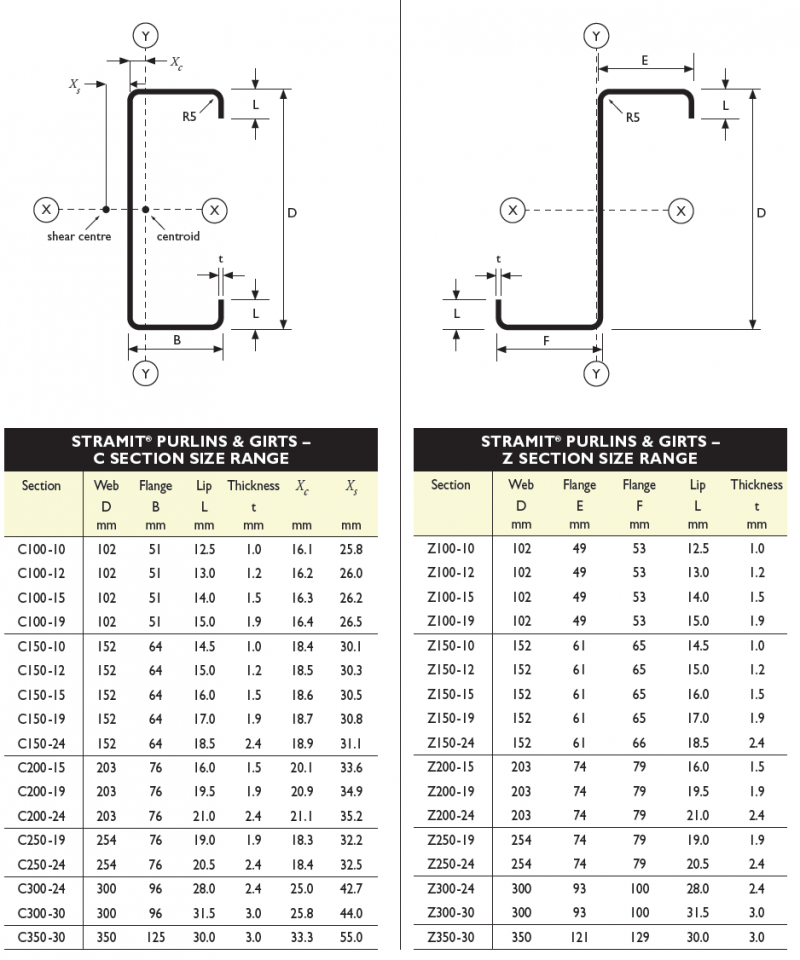 Purlin spacing is influenced by both member and roof sheeting capacity. On large and medium sized buildings it is generally more economical to reduce the purlin or girt spacing at the building edge and ends to account for the higher wind pressures.
Additional intermediate runs of purlins can be positioned in the highest loaded areas. Also remember to close purlin spacing (or add additional purlins) around roof penetrations and in areas of increased loading (eg air conditioning plant).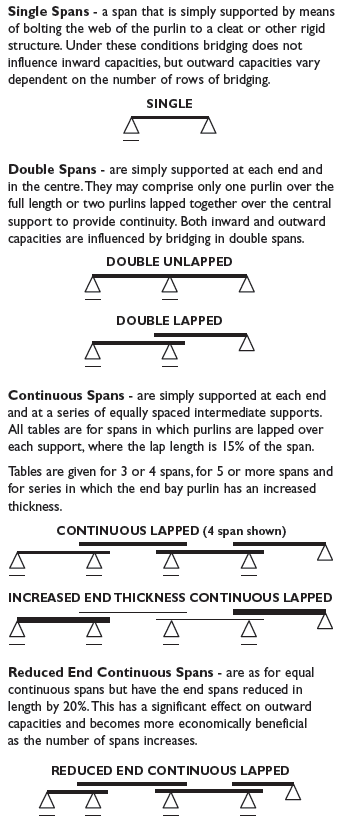 For special or large projects, Stramit is able to produce purlins outside the standard size range. These include:
any web between 100mm and 400mm
any flange size between 30mm and 130mm
any lip size between 9mm and 35mm (plus no lips )
thicknesses between 1.0mm and 3.0mm
material strength between 300MPa and 550MPa
a maximum strip width of 640mm.
We can also calculate the performance of these special sections to suit project specifications.
Loads to be suspended from roof purlins must be accounted for in design. No allowance is made for this in the Capacity Tables. Any such loadings must be connected to the purlin web by using hangers and/or screws.
Attachments to the purlin bottom flange must be within 25mm to the web. Connection design should follow the rules within AS/NZS 4600, including a check on bearing of the purlin. Loads should not be suspended from wall girts.